Tietoliikenteen asiantuntija
Microsoft: a dinosaur or a profitable investment?
Julkaistu: 19.04.2012
Microsoft: a dinosaur or a profitable investment?
Few companies succeeded in entering everyone's life. And Microsoft Corporation is undoubtedly among them. Paraphrasing Russian literary critics who are sure that "we all came out from Gogol's overcoat," we shall assume that all computer users are likely to have grown up with Windows operating system before their eyes. Most probably, even now you are reading this text in one of its "windows". At the same time, every issue with your computer makes you curse this corporate colossus of "micro softs." Every year they predict the company to ruin, and here it comes again with decent financial results.

The corporation you love to hate. How is it getting on in reality?

Recent failures and successes

| | |
| --- | --- |
| Successes | Failures |
| Windows 7 | Kin phone |
| Windows XP | Zune player |
| Xbox 360, Xbox 360 | Windows Vista |
| Kinect | Windows Phone 6 |
| Office | Bing |
Over the past few years Microsoft had both stupendous achievements and huge failures. The history of its operating system strongly resembles zebra stripes. Starting from Windows 98, every successful OS version is followed by a real disaster. Windows ME definitely lacked popularity and was quickly substituted by Windows XP, which has a large army of followers even after 10 years. Following it, Windows Vista was launched to get a very reserved welcome. Even Microsoft management admitted it was a failure. When Windows 7 came to change Vista, sales of the new operating system broke all historic records. At present, Windows 7 is the OS of choice for the majority of new and up-to-date computers. The next major release is scheduled for this autumn. Let's hope that Windows 8, which is planned to open integration of classic desktop solutions with mobile technologies, will be able to break this sad tradition.

Among the most notable failures of Microsoft is a notorious series of Zune players meant to compete with Apple iPоds. The failure of Kin project, an apology for a smartphone, added another scar to the business heart of Microsoft. Production of Kin smartphone targeted at younger customers was discontinued in 48 days after its launch. Promotion and launch of Bing search engine demanded enormous investments. At present, Bing faces difficulties in finding its audience and is definitely not worth the funds invested by now. The mobile platforms market adds to this bunch of problems. The sixth version of Windows Phone failed to rival Android and iOS efficiently. Experts are positively characterising the seventh version saying that it looks much better, but it would be difficult now to bring the lost audience back.

On the other hand, the sales are positively influenced by Xbox video game consoles and Xbox Live network service. Microsoft Office products show a positive sales trend, too. Recently, the corporation made its followers happy by introducing the Internet Explorer 9 web browser promising that it would be free from numerous mistakes of its predecessors. Additionally, Microsoft is entering computer security market by developing an antivirus of its own and planning a complete range of security applications for Windows 8 including encrypting tools.

Market reorientation
Recent years brought a drop in sales of Microsoft operating systems, which could be explained by a slump at the global personal computer and notebook market. Due to uncertainty of global economy, weak customer demand and growing interest for tablet devices and smartphones, the market remains unstable. Some experts even speak about final stagnation denying any prospects for its further quick growth. Taking their opinion into account, the development of Windows 8 as a universal computer and tablet operating system seems risky but rather reasonable. By now, Microsoft did not have a chance to won a reputation at the tablet market, so Windows 8 will give the corporation its chance.

Moreover, rumours are circulating about an alliance of Microsoft and Nokia preparing to purchase RIM Corporation manufacturing Blackberry smartphones. The company's stock quotes dipped very low during a year, so the takeover seems very promising. They say that when the deal is over, BlackBerry OS will be fully substituted by Windows Phone platform. At the same time, Microsoft is likely to have its interest in server business of RIM and the patents portfolio held by the company. Obviously, problems faced by Microsoft and its attempts to survive at the modern mobile market make a sharp contrast to current successes of Apple here, its main achievement being skyrocketing popularity of iPhones and iPads. Over the latest years Apple financial results were simply incredible.

IP telephony became another major market won by the corporation. Some joke that when the company's head asked to download Skype for him, his employees just bought it by mistake. Meanwhile, Microsoft management is sure that $8 billion deal will pay handsome dividends. In any case, the purchase has already influenced certain Microsoft products. First of all, it is the software platform for Xbox consoles, which will be revised in the nearest future. By the end of this summer, Skype functions will be also available for users of Windows Phone-based smartphones. Skype will become a standard option in the new Windows 8 operating system, which is meant to add clients to IP telephony.

Struggling XXI century pirates
Apart from constant attacks at various IT segments, the company continues its active attempts to withstand software piracy. It would be fair to say that the policy pursued by Microsoft is a great contribution to the general trend of decreasing computer piracy in Russia and in the world. Positive changes are backgrounded by comprehensive measures taken by the company together with law bodies. The aim is to prevent distribution of pirated software in the computer retail segment and to struggle piracy at the corporate market. Back in November 2006, a case of Alexander Ponosov attracted much attention. A principal in a village school, he was accused of illegal use of Windows and Office products. Celebrated trials are meant to frighten software users, train them to honour copyright and make buy licensed products. The general trend shows that the chosen tactics brings its results. According to a research by IDC, the level of computer piracy in Russia dropped from 83% to 65% during 2006–2011.

It's high time for management at many Russian companies to review their somewhat loose policy in relation to pirated software found at corporate computers. Dishonest corporate players are now in charge of the SMB corporate licensing department. The Internet is full of messages about "letters of happiness" and persistent calls from Microsoft employees. The licensing department demands to complete a form on software used soliciting their services in understanding the principles of licensing their applications. It turns out that users are bound to help the company in making an inventory of its licenses. So, Microsoft expects an installed software report to be completed (in the form of a spreadsheet) and sent back by e-mail. The revision will be followed by a final report on licenses with detailed information on software in your property and applications in use. The final report also includes a list of excessive licenses and explicit mismatches to be corrected. It seems like the revisions in question are introduced only for intimidation of businesses, which are expected to treat their licenses more carefully. But taking such liberties with clients does not speak well for Microsoft. The Russian office might not do so well if they choose such a repulsive policy to make their money.

Stocks and investments

Maximum: $45 in 1999
Current: $31.44 in April 2012
Minimum: $16.15 in 2009
By now, many are questioning investment appeal of the company. Microsoft Corporation stock is present at NASDAQ exchange as MSFT. At the moment of the article being written, its stock quote was about $31-a-share. The maximum bidding of $45 was recorded in 1999. During the crisis of 2009 accompanied by a number of rough blunders, Microsoft shares reached their bottom. Since then, their price has risen twice already. During this year, the stock went up 20%, which is twice as much compared with S&P 500. Last month, stock quotes overcame $32 mark and came to their 4-year maximum. Market changes were initiated by good financial results of the last quarter of 2011. A range of new Microsoft products scheduled for launch later this year attracts additional interest and looks promising according to first reviews. Still, it is too early to make final conclusions about future announces including Windows 8 operating system and first Nokia phones under Windows Phone 7 even though both companies set big hopes on them. Most experts are sure that their time has gone and new phone platforms will not be up to expectations, but giants like Nokia and Microsoft are always full of surprises.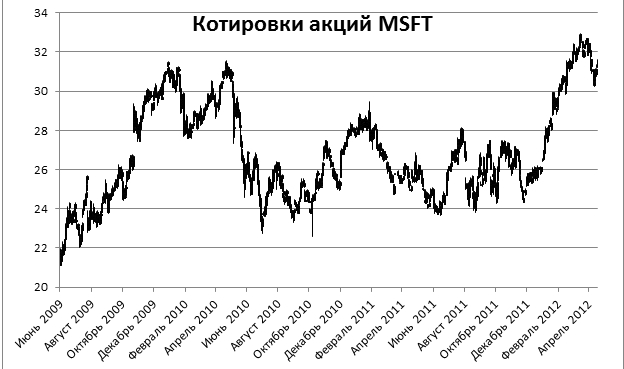 The stock quotes diagram confirms that their positions are close to maximum. Sharp changes in quotes are possible when the corporate financial report is announced this week. Dramatic changes may also take place in autumn depending on the success of the new operating system. According to numerous experts, with a success of Windows 8 guide prices for Microsoft shares will make $37, while another failure poses a risk of entering the "yesterday stars" list of the investment market. Naturally, Microsoft downfall and ruin is out of question, but shares will eventually lose their attractiveness for potential investors.


Send message